"Asterix in Britain: the life and work of René Goscinny" was an interesting exhibition showing in London recently, at the Jewish Museum in Camden Town.  It was great for both adults and kids, especially (like me) fans of René Goscinny's comic creations "Astérix" and "Le Petit Nicolas".  Although the exhibition's now closed, I'm writing this post to record the things I saw and learned there.  I hope to inspire you to read more of Goscinny's work and enjoy it with your kids.
The exhibition brought Goscinny's story to life through original scripts, sketches, storyboards, photographs, video, dressing-up stations and games.  This was the entrance to the exhibition:
Once inside the exhibition, you followed a time line showing the life of Goscinny with examples of his work underneath.  At this point, in 1959-1960, he had just started writing his "Astérix" stories:
Here's a display of some of the books and magazines he contributed to:
René Goscinny was born in Paris in 1926, but he grew up in Argentina.  He loved reading books and spending time at the printing works run by his mother's family.  In 1945 he moved to New York.  It was here that he met the many cartoonists and artists who were to become his colleagues and friends.  In 1951 he left New York and returned to France.  In 1955 he started working with Belgian cartoonist Maurice de Bevere (aka Morris) on the "Lucky Luke" cartoon stories.
Asterix
Goscinny's most famous works are his witty "Astérix" cartoons.  These comic strips boast brilliant illustrations by Goscinny's artist friend Albert Uderzo.  From 1959 to 1977 the pair created 24 Asterix adventures together, which have been translated into more than 110 languages – so they're not just for those who speak the language of the Gauls! They're popular in Germany, the Netherlands and Scandinavian countries and they've been translated into English by the highly talented translator Anthea Bell.
A journal on display gave some information about Goscinny and Uderzo's artistic partnership: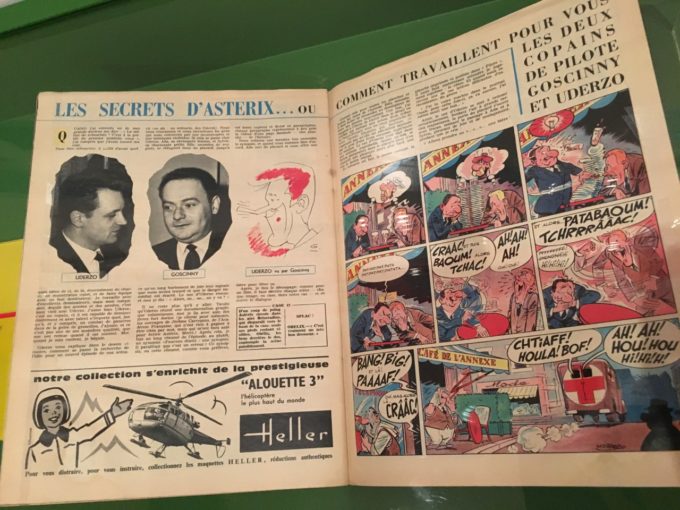 My favourite part of the exhibition was the video of an interview with Goscinny and Uderzo.  It was French, made in the late 1960s but very clear and you could listen to it as many times as you wanted. The pair had already been working on Asterix since 1959.  They were obviously good friends, and in this humorous, relaxed interview they describe their working partnership.  They reveal their love for their work and the fun they had with the stories.  What a job to have!  Uderzo said he was honoured to be the first person to read every new story, as Goscinny passed the text on to him first of all, divided into boxes and ready to illustrate.  He used to provide him with a description of the action on the left and the text on the right.
Here's an example of a page Uderzo would have received:
…and Uderzo would have converted it into this sort of thing (one of the original cartoon drawings):
The information below reminds us of the fine line between affectionate stereotypes of different nationalities, such as those portrayed in Asterix, and racism.
In 1949 the French government passed a law to protect children from violence and "adult" content.  This ruling seems to have inspired Goscinny to make more use of his sense of humour and imagination – the Gauls don't use brute force in their battles, they use a magic potion!
Le Petit Nicolas
Goscinny also created the charming, mischievous schoolboy "Le Petit Nicolas" and wrote a series of children's books about him, collaborating with the illustrator Jean-Jacques Sempé.  Between 1961 and 1964 they published five Nicolas books which sold around 8 million copies and were translated into various languages including German and English.  In a previous blog post I wrote about the lovely Petit Nicolas film. The books are text-based with amusing illustrations, but they first appeared as comic strips like this:
A new edition of the original comic strips – "La Bande dessinée originale" – was published in France last year.
Here are the original Sempé drawings for the Petit Nicolas chapter: "Je suis malade".
After you'd visited the various displays along the time line, you might feel inspired to make up your own cartoons at the little work station:
Or whatever your age, you might feel like lounging around reading some of the Goscinny materials provided in the play area:
On the other side of this area was a name game, where you could play about with your own names for cartoon characters using Goscinny's idea of the – ix suffix.  This fun way of naming his characters came from the ancient -ix suffix given to Gallic rulers.
Below is Goscinny's original handwritten list of ideas for his characters' names.  By the way, translators of Asterix did change some of the names to give a better "fit" in their target language.
The exhibition started in May, so I was quite late catching up with it in August.  It finishes on 30 September, so be quick if you're a cartoon fan.  You can buy Goscinny memorabilia in the museum shop on your way out.  The exhibition is open every day from 10 am to 5 pm (10 am to 2 pm Fridays) and costs £8.50 for an adult and £4.00 for a child 5 – 16.  Here's the address:
Jewish Museum London
Raymond Burton House
129 – 131 Albert Street
London NW1 7NB
The museum is 3 minutes' walk from Camden Town underground station.