One thing I miss in the UK is good bakeries – especially places where you can buy really fresh brioche.  The smell of baking drew me into "Aux Merveilleux de Fred".  It has branches in Paris, Nantes, Berlin, Geneva, New York….and London!  "Fred" is Frederic Vaucamps, a skilled pastry chef based in Northern France.  His website is www.auxmerveilleux.com.
There is a branch of the bakery "Aux Merveilleux de Fred" at 88 Old Brompton Road, South Kensington – just a few minutes from South Ken tube station.  Come in here and pretend you are in France!
It's a little salon as well as a bakery, with soft chairs and immaculate tables.  The staff are very friendly and ready for a chat.  The cooks bake various brioche pastries ("les cramiques") all day long, and you can watch them working through a large window into the kitchen.
My favourite brioches are the raisin ones, so I'd always go for one of these with my (reasonably priced) coffee or hot chocolate, although I'd be tempted by those ultra-fresh croissants too.
My daughter, on the other hand, would opt for anything with chocolate, every time.  As she did here
I think you can see how fresh the brioche was – still slightly warm.
Fred doesn't only make brioche.  The stars of his shops are the "merveilleux".  These are lightweight delicacies crafted from meringue and cream.  I've never seen them anywhere else.
Some decorative writing on the walls of the salon explains the origin of the name "merveilleux":
En France, sous le Directoire (1795-1799) la vie mondaine reprend.  Des femmes célèbres telles que Madame Fallien et Madame Récamier ouvrent des salons qui sont le rendez-vous de la nouvelle élégance: les Merveilleuses et les Incroyables.  Ce sont des jeunes gens qui par opposition a la vulgarité des Sans-Culottes affectent une recherche excentrique dans leur mise, leurs manières et leur langage.  Ils suppriment le "r" de la langue française. 
The Merveilleuses and the Incroyables deleted "r" from their language because that was the initial letter of "Revolution".  They were a sort of fashionable aristocratic subculture in Paris, who prided themselves on their luxurious, decadent lifestyle.  They were well-known for their frivolous balls and affected mannerisms.  They were in opposition to the "Sans-Culottes" – the people who didn't wear silk breeches.  The Sans-Culottes were the trouser-wearing lower classes, the urban manual workers who drove the Revolution.
Fred's "merveilleux" are as light and fluffy as their namesakes, as you can see from their names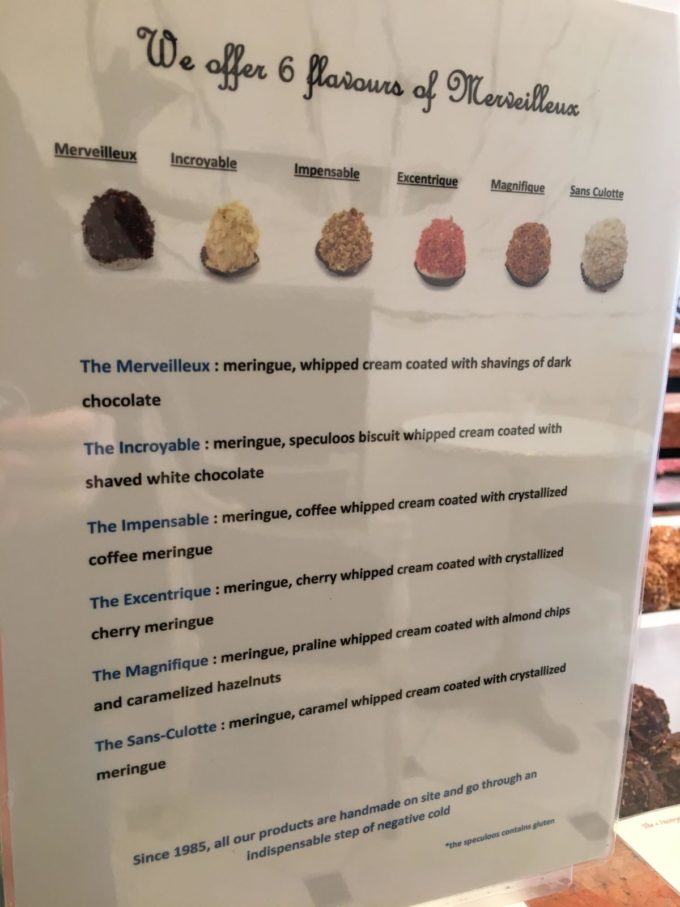 According to this list, the products "go through an indispensable step of negative cold."  I think that means they have to be frozen at some point.  These meringues have just emerged from the kitchen and are waiting to be transformed into merveilleux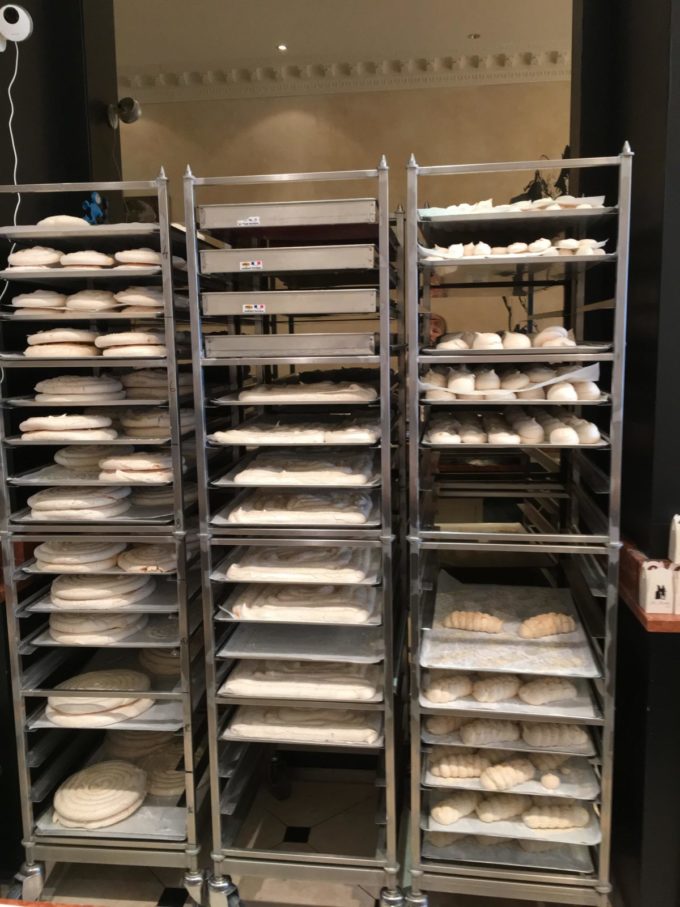 You can buy merveilleux in various sizes: mini (£1.90), individual (£3.40), or shared cake size.  Here's my mini caramel one, complete with artistic napkin
I should mention that all Fred's items are available to take away if you don't have time to eat in the salon, or if you want to take them away to share.  I just hope they reach their destination intact!
My daughter's verdict:
"When we stepped in to 'Aux Merveilleux de Fred', in Kensington, it felt like we were back in France! The layout was beautiful and there was a heavenly smell of baking, it was so lovely. We ate a chocolate brioche, which was freshly baked and super chocolatey, ideal for brunch! We sampled the delicious hot chocolate and the unique meringues with cream, each with its own individual flavour and style. They had weird names though! They were almost bite-sized, but so yummy. We took lots of photos of the beautiful interior, the cakes on display…why wouldn't you!? We loved it here and will certainly be returning!"