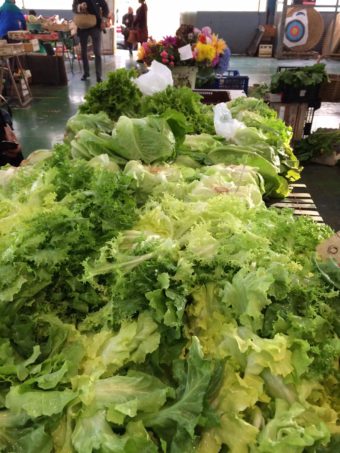 Do you struggle to get your kids eating vegetables?  The answer might be to stop trying to persuade them, and have fun with the food instead!  You could start by visiting a food market like this one we explored in France; it's Les Halles indoor market, Pau.   When you go to a market, can you name any of the veg in the local language?
Why do kids often dislike eating vegetables?
Scientists are now advising us to eat even more fruit and veg than 5 a day for the sake of our health – more like 10 if we can manage it.  So we might get concerned when our kids turn their noses up at the two or three vegetables included in their dinner.
When my daughter was about 3  she only liked bland food, and even now she complains about the textures of some vegetables.  Perhaps we need to see the food from the child's point of view.  Kids spend their first few months on breast milk or formula and then we expect them to get more and more adventurous trying "solids".  They might feel overwhelmed and under pressure from us adults, who resort to playing trains or aeroplanes to get the food into them.  The texture might be putting them off – peas have a sweet flavour, but it's the texture that kids often don't like.
It's worth remembering that trying new food can be worrying for adults too.  A friend once offered me some of her mutton curry in the middle of the morning and the unfamiliar look, smell and timing of it sent me backwards.  I'm sure her curry was delicious, but I was suspicious of it because it was new to me.  Maybe that fear is in-built and originates from hunter-gatherer times when we had to be very sure that any potential food wouldn't harm us.
Disguising vegetables
We can try more imaginative ways of cooking vegetables, or different ways of "hiding" them in soups, pasta sauces and even in cakes.  I have a lovely cookery book by Harry Eastwood called "Red Velvet Chocolate Heartache" which has delicious cake recipes containing veg such as sweet potatoes and butternut squash.  I also have a German cook book called "Kuchen trifft Gemuese" (literally Cake Meets Vegetables) by Stephanie Schoenemann.
Having fun with vegetables
The way to encourage kids to eat veg might be to let them have fun with it instead!  This is the more "up front" way.  My daughter was still in her "fussy" phase when a wonderful book was published: "Mange Tout – teaching your children to love fruit and vegetables" by Lucy Thomas.  On the front there's a picture of a little girl tucking into some green beans and obviously loving them.   Lucy believes that if kids get involved in gardening, shopping, food handling and preparation they will be more relaxed and interested in fresh produce.  Her hints include encouraging kids to use all their senses to explore the food.  At first you shouldn't expect them to eat it; you might get them to taste it by, for example, painting their lips with tomato juice and then looking in the mirror.  There are lots of fun songs and rhymes and games in the book. She's also included a mouth-watering range of recipes. Our copy of the book has food stains on our favourite ones: Leek and courgette mini muffins, green soup, carrot and parsnip soup, spinach soufflé, courgette walnut cake, banana yogurt cake.

Talking vegetables
Maybe you know some funny idioms involving vegetables.  Here are some examples:
English:
To be full of beans – to be very lively
To spill the beans – to let out something which has been kept quiet
In your salad days – in your youth
A hot potato – something very controversial
French:
Il me court sur le haricot – (he's running on my bean) he's getting on my nerves
Raconter des salades – (to tell salads) to tell lies
Faire le poireau – (to act like a leek) to be kept waiting
German:
Tomaten auf den Augen haben – (to have tomatoes on your eyes) to be oblivious to what's going on around you
Watching vegetables grow
You could try growing your own vegetables.  We never got round to this so we watched other people growing theirs!  There were some allotments near to our house when my daughter was little and we used to go there sometimes to see some of our neighbours.  They used to show us what they were growing and even give us some produce to take home with us for our dinner.  One time we walked home using rhubarb leaves as sunhats.  My daughter was amazed to see what the veg looked like at source and was keen to take part in its journey to the dinner table.
Shopping for vegetables
Shopping is a bit more tricky.  I think this is because we usually buy our veg from the supermarket, and it's neatly packaged and/or stowed quite high up.  There are no staff to chat to us about the food.  Kids, especially toddlers, get bored with this and so the supermarket is a prime place for tantrums.  Best to find a friendly greengrocer!  We spent last October half term in France, and took these photos in the indoor market (Les Halles) in Pau, which was filled with local produce being sold by the farmers themselves.  I was dazzled by the vibrant colours, the fresh smell and the relaxed atmosphere.  My daughter loved it there and I'm sure she would have been fascinated when she was a toddler.

Preparing and cooking vegetables
As well as her book, Lucy Thomas has a brilliant website: mangetoutkids.com.  Another website, tableofdelights.com, "Food entertainment for children", also has fun cooking and eating ideas for kids.  There might be a "community farm" near you which runs children's cookery classes using fresh produce.
In Worcester Park, South London a company called pencilandfork.co.uk  teaches adults languages through cooking on the premises – you can learn to cook tapas and learn Spanish at the same time.  So far I haven't heard of a club or company which does the same for kids.
If your child has more than one language you could find a tasty recipe in one of those languages and carry on speaking that language while you're making the recipe together at home.  The new website cookingwithlanguages.com is about cooking with kids who are beginning to learn English or Spanish.  It only just launched in January 2017 and was financed by crowd funding.   The subheading on the website is "Let's get children excited about learning languages!"  Wouldn't it be great to get them excited about vegetables at the same time?
It would be great to hear whether any of these ideas have worked for you and your kids, or if you have any other fun activities to add.  Or any more idioms containing vegetables?