I'd heard of Barbara Abdelah-Bauer before – she's a psycho-sociologist specializing in bilingualism, and she's brought up her own children to be multilingual.  Last month I went along to an interesting talk which she gave in French at the Institut Francais London.  She was talking about the conclusions which have been drawn from the latest research into bilingualism, and at the same time she was promoting her two books on bilingual children: "Le défi des enfants bilingues" (The Challenge of Bilingual Children) and "Guide à l'usage des parents bilingues" (Handbook for Bilingual Parents).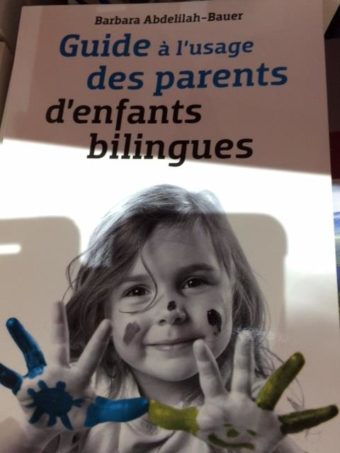 Whenever Barbara used the word "bilingual" in her talk she meant to include trilingual/multilingual children as well.  I noted down her main points and added a few of my own examples – but not my own experiences and ideas, which I'll save for another blog post.
How common is bilingualism?
Some of her statistics might come as a surprise to British people outside large cities.  Worldwide, as many as 80% of 8 year-olds are bilingual or multilingual, and 50% of the world's population as a whole are bilingual or multilingual.
What does it mean to be bilingual?
Contrary to popular belief, a bilingual person is not like two monolingual people joined together.  You don't have to speak both languages equally well to be called bilingual.  In fact, only 5% of bilinguals have equal ability in both languages, written and spoken.  Being bilingual can best be described as an ability to use two languages regularly in your day to day life.  Your skills might vary with your age and environment.  For example, if you don't use a language you might forget it over time, or if you spend some time living in a country you'll be immersed in the relevant language and speak it better while you're there than you will do a few years (or even months) later.  You could be a passive (receptive) bilingual, understanding the language well but not able to speak it much, or an active (expressive) one, able to speak the language fluently.
The human brain is naturally equipped to be multilingual.  The way you learn language(s) depends on the age you are when you start.  It's very simple: the way you learn depends on whether you start learning when you are younger – or older – than 7 years old.  Seven years is the dividing line.
How do bilingual children learn their second (and/or third) language?
From the age of 0 to 3 years, language learning is intuitive. It's enough just to be exposed to the language, but if this exposure is less than 20% of the time you're unlikely to become actively bilingual.  The input at this age usually comes from one or both parents, who avoid interference from the other language when they're talking. From this exposure to 2 languages the child learns that language labels are arbitrary – a car is the same as a voiture.
From age 3 years to 7 years, a child will decode a new language intuitively, to communicate with new people.  There are 3 stages to this process: mute, when the child is working hard to decode; social, when she pretends to understand; and finally the stage when she extracts the phrases she hears a lot, uses them herself and the other person reacts to this and expands on it, thus helping the child to learn more.  "A Squirrel!" – "Yes, the squirrel's hanging in the tree, isn't it?" This is exactly how children learn their native language as well.
By the age of 7, this intuitive stage is over and the task of learning a new language becomes more complex.  By this age, the reason for learning the second language is usually a move to another country rather than a bilingual home environment.  At home the child most likely speaks and hears her original native language.  At school she has to consciously analyse the new language she hears – it's a problem-solving task.  On top of learning the spoken language at school, she has the challenge of accessing the curriculum, catching up with her peers and learning to write.  She can tell the difference between the languages and this is helped by the fact that there is a boundary: each language is used in different situations and with different people, for example one language at school and in the local environment, and the other at home and on holiday.
How can we encourage language learning?
Quality of language input is important, so the daily routine is too limiting on its own.  It's better to use books to open up the world and introduce new vocabulary and a more sophisticated level of language.  Motivation is key; the child is quick to pick up on whether or not the language is valued by people important to her, and it helps a lot if she feels proud to speak the language.  Children are not "sponges".  To learn the language they must need to speak it.  Success depends on the quantity and quality of interaction, and on the perseverance of the parents.
The language of the country the child lives in always dominates, and the family language is weaker.  An effort has to be made to maintain the weaker language.  It's a good idea to do activities in that language and go on visits to get some regular practice in exciting and varied environments.
Television is of limited value when it comes to language acquisition.  Up to the age of 5 there are few benefits if the child is simply sat in front of the television.  She needs interaction.  From the age of 5 onwards however, it's a different story: well chosen television programmes will enrich the language she's started to learn.
So what are the advantages of being bilingual?
Of course the main benefits are for communication, but bilingualism develops other skills as well:
It improves metalinguistic skills.  This means that the child can better analyse language and learns to decode it, a skill which is essential for learning to read.  "Mum says montre, Dad says watch." Even one hour a week at a language club develops this ability in a child with monolingual parents.
It enhances creative thinking.  The bilingual child can imagine lots of possible replies to questions and lots of uses of different objects, such as what you can do with a cup or a book.  You could call this "thinking outside the box".
The child is more sensitive to the needs of the person she is talking to and can put herself more easily into somebody else's shoes.
The bilingual child is more motivated to learn further languages.  This proves to be easier if the third language is related one of the languages she knows already.  The child needs to see a reason to learn, because a language is a living thing, a tool for communication.  She might want to learn Italian so that she can order a drink in an Italian café.
A bilingual child has a cognitive advantage in dealing with information.  She finds it easier to pick out the most important facts.
Are there any disadvantages of being bilingual?
People used to claim that bilingualism was "too much" for a child, or that it would confuse the child, but we now know that there are no negative effects of bilingualism!  If a bilingual child is stammering or not speaking clearly at the age of 3 or 4, this is not caused by speaking two languages – there has to be another reason.  There's no reason why children with special needs can't be bilingual as well, within their own abilities.
What about writing?
Writing is a separate skill which has to be taught; we all have to learn that a phoneme (spoken unit) corresponds to a grapheme (written unit).  It's very important for a baby to have plenty of contact with books and stories from the age of 6 months.  She learns to decipher letters and words through sharing stories with a parent or another adult. The skill of reading can then be transferred to other languages.  For example, a child who can speak French and English will correct her pronunciation of the word "table" according to the language of context.  Language difficulties such as dyslexia could be a cause of extra difficulty as there are 2 systems to learn.  English is an opaque language (there are many different ways of spelling one sound), whereas Italian is transparent.  In English there are as many as 1120 graphemes for 40 phonemes.  In Italian there are only 45 graphemes for 35 phonemes.
In conclusion:
Bringing up a bilingual or multilingual child is a long-term commitment requiring a lot of patience.  Motivation is always a challenge –  the child needs to see that the second (and/or third) language is useful to her; a great opportunity to reach out and build relationships with other people and appreciate a different culture.