This is a guest post written by my 12 year-old daughter, who has chosen an assumed name.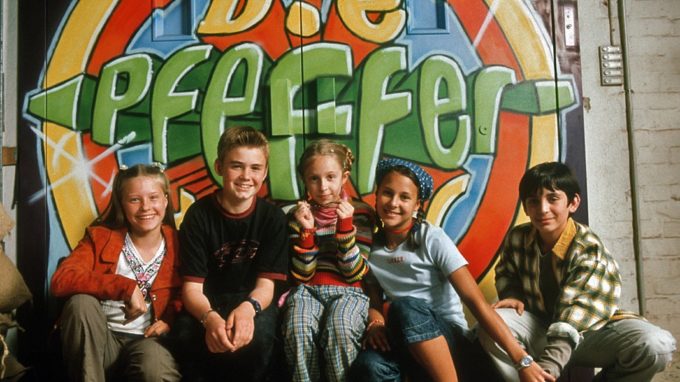 Hi, I'm Charlotte and I'm Jane's daughter.  I wanted to tell you about my favourite TV series ever: 'Die Pfefferkoerner' (The translation is 'the peppercorns'!).   It's a German kids' and teens' series that has been going since 1999.  I love it because it is thrilling and dramatic.  It is realistic and the kids don't go off around the world solving mysteries or anything – that's why it's so likeable.  You need to be able to understand German well because there aren't any subtitles.  It tells the story of 5 kids from the Hamburger Speicherstadt, the industrial area of Hamburg, and the whole series so far consists of 13 seasons and 8 generations. It's called 'Pfefferkoerner' because the Hamburg traders used to be called 'Pfeffersaeke' (Translation: 'pepper sacks').
Each generation is made up of a different group of kids and teens. The first and second generations, from 1999 to 2002, are made up of the same 5 kids. This first group are Natascha, Vivi, her older brother Fiete, Cem, and Jana. They hunt down kidnappers, gangsters and other criminals together, but the episodes focus on their personal lives too. For example, Cem's parents have died and he lives with his uncle.  Vivi sometimes feels left out because she is the youngest, but she is just as brave as the rest and isn't afraid to show it.  Even through difficult situations they always help each other.  I love the fact that in most generations, there is a girl who is younger than the rest, but is really feisty! The most recent group, the eighth generation (2015-2016) is brand new, and this is my favourite group so far.  New episodes came out last month, and I was really excited about them. The children are Pinja, her sister Stella, Till, Ramin, and his little sister Jale.  Jale is my favourite character in the series so far; she is very bubbly and fun.
My favourite episode (out of 169 altogether) is number one, 'Abgezogen'. This is because everything started here, and I watch it over and over again. The plotline is sad in parts:  Natascha is being forced to give away money by a seemingly nice boy who blackmails her. She doesn't want any help, but Fiete, his friend Cem, and Natascha's best friend Jana, know there's something wrong.
Recently, me and my best friend Izzy have been creating a spin off on iMovie, with both of us as the Pfefferkoerner.  She is very good at switching between being a kidnapper and a Pfefferkorn, but sometimes we have to enlist the help of our parents!!  Today I was looking for theme music, and made a really cool choice.  If any of you play the game 'Geometry Dash' , the song I chose called 'Cycles' is the background music to the level of the same name.  It's by DJ Vi, go and listen to it!  I would recommend the series Pfefferkoerner for boys or girls from 9+.   You can find episodes on YouTube or the NDR website.   Bye!!!
Charlotte xx