With this post I'm carrying on from my post Sign Language and how to learn it, where I wrote about British Sign Language and other sign languages, and showed photos of some random signs.
This time I'm showing a joke in BSL.  It's the sort of joke that makes everyone groan, but it shows something of the structure of BSL.  It shows how the most important thing you're signing about comes first in a "sentence" and the question sign ("word") comes last.  It's not so easy to get an idea of signing from photos rather than video, because signers are never still – one sign flows into the next.  Still, this will show you the basic structure.
If you look at this joke it makes you realize some of the stumbling blocks for those deaf people whose main language is sign, when they come to speak or write in English.  In English they have to use prepositions instead of placement of the hands and fingers, and then there is this word "did" which doesn't exist in BSL.  The structure of BSL is very different from English.
Having said that, the introduction of hearing tests for new born babies in 2004 means that deaf children can be helped a lot earlier with their English.  They have better access to spoken English now too, with the improvement in cochlear implants and hearing aids.
Anyway, here's the joke.  I'm afraid it's "Why did the chicken cross the road?" – "To get to the other side."
The picture sequence shows: chicken – road – walk across
Then the big question: WHY?
And the answer: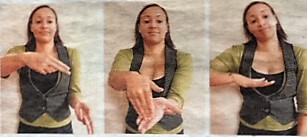 The picture sequence shows: road – walk across – side
When used to teach deaf students I noticed that they really enjoyed visual comedy.  In 2015, the series producer for the BBC programme "See Hear" wrote an article about "deaf humour" and deaf comedians.  You can read it here.  Still, it's hard to generalize – everyone has their own sense of humour whether deaf or hearing, or wherever they're from.
You can read more of my blog posts about signing here: Fingerspelling: how to sign the alphabet onto your hand and Sign Language: should hearing children learn BSL?