A year ago I wrote a longer post about a sunny October day my daughter and I spent in Biarritz, an elegant seaside resort with popular surfing beaches.  To read the post click here.  Well, we were excited to go there again this half term and carry on where we left off.  The sun was shining and the temperature was in the mid-20s, again.  At this time of year the crowds have left but there's still a buzz about the place.  For more information about things to do in Biarritz, click here for the tourist office website.
To get here from London we'd flown with Ryanair from Stansted to Biarritz.  It was a murky day in London but after a short afternoon flight we were coming in to land and this is what we saw
…a fantastic view, perfect weather and we knew our friend (and host, and guide) Jacqueline would be waiting for us just beyond passport control.  We were so excited!  We would soon be on our way to spend a few lovely days with her in Pau.
After those lovely days in Pau (see next blog post) we were on our way home again via Bayonne, and had planned in a few hours in Biarritz before getting our early evening flight back to Stansted.
We'd left Bayonne feeling hungry and so our first stop in Biarritz was the Miremont – renowned Salon De Thé and Pâtisserie.  It's on the elegant Place Clemenceau, not far from the beach.  Last year we'd built up a hot-chocolate-drinking reputation, and Jacqueline had told us that in Biarritz "there's a place with hot chocolate to die for."  This was it.
Miremont somehow manages to be grand and cosy at the same time.  It's housed in a smart 17th century building, on two floors.  The salon De Thé was established in 1872, and from this time until the First World War (La Belle Epoque) Biarritz was a popular winter meeting place for European royalty and aristocracy, including Queen Victoria and Edward VII.  The latter always stayed at the most exclusive seafront hotel in Biarritz, the Hôtel du Palais, but he still came to Miremont for his cakes and pastries.  If you look at old photos or films of those days and you get a side view of him, this habit will be obvious to you straight away.
The interior of Miremont is beautiful.  It has sumptuous displays of cakes and chocolate, surrounded by mirrored walls and chandeliers.
The window in front of us looked straight out over the sea.  After a long time studying the menu I went for… a tasty quiche and salad.
The other two were more honest, they went straight for the hot chocolate, with buttered toast as a side dish.  Actually more butter than toast.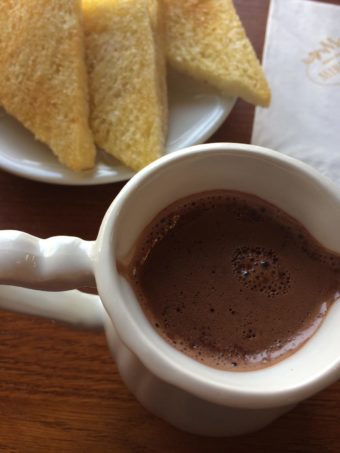 Of course, I ended up with hot chocolate for my dessert.  You pour your own portion from a little jug and add a cloud of whipped cream (chantilly).  Chocolate heaven.
This gave us some energy for a walk along the promenade: not many surfers to admire this time as the sea was unusually calm. There are stunning views out onto the Bay of Biscay.  In the far distance you can see the Pyrenees and the Spanish coast.
And here are some close-up views of things we saw on our walk:
I'd quite like to live in one of those 19th century villas.  I'm intrigued by the Rapunzel-style turrets with the little windows – what on earth can you fit into that turret and what's it like inside?
The same sand sculptors were there as last year, with their amazing sand village.
Biarritz has lovely beaches and we had perfect weather for relaxing there, doing a bit of people-watching and paddling in the sea.  It was extra relaxing because in October there's no need for sun screen.  My daughter had sneaked her swimsuit into her bag and managed a swim despite not having a towel.
We were sitting on Le Port Vieux beach, a small protected cove – not one of the surfing beaches with the crashing waves.  On a calm day like today Le Port Vieux is the beach which is OK for kids (under supervision), as it has lots of shallow water.
The water was still quite warm, but I'm not sure I'd like to be an "ours blanc" – a polar bear.  "L'association des Ours Blancs" is a club for biarrots (Biarritz locals) who swim in the sea every day, all year round.  It has 200 members and has been going since 1929.  Even in January it would be warmer than August in Brighton, but I'd need a wetsuit and that's probably cheating.
It's quite a shock to fly from Biarritz to Stansted at the end of October – you face a drop in temperature of about 10 degrees but at least you've been able to prolong your summer a bit.  And if your baggage allowance will tolerate it, you'll be bringing back some local goodies to share with friends and family.