Carrying on from yesterday's post about Pau, I've thought of 10 more tips for families visiting this lovely town.  First of all you'll need some food, either to enjoy on the spot or to take home with you.
Specialist Food and drink includes Jurancon wine, fromage des Pyrenees, delicious patisserie and chocolate!  We found this incredible (but very edible) selection of macarons in a shop called "Maison de Macaron" in rue Joffre.  Pear, lavender, raspberry, pina colada….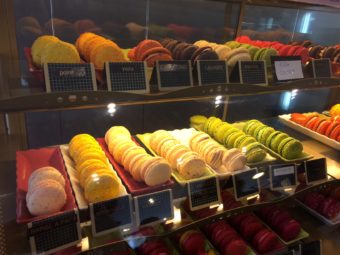 …and below is part of the Halloween chocolate display in "Atelier du Chocolat" in the same street.  In my previous post I wrote about the delicious take-away hot chocolate you can buy there, with very friendly service. www.atelierduchocolat.fr.
 Les Halles is an indoor market where local farmers sell their own fresh produce.  It's much more interesting for kids than a supermarket (see my post https://multilingualmum.com/2017/03/kids-eating-vegetables.html about getting kids eating vegetables).  We bought some delicious Bearn honey and black cherry jam in there.  The honey smells and tastes of concentrated flowers, far removed from our Waitrose squeezy bottles.  The jam is mainly whole squashy cherries; I read that it can be eaten with the local "Fromage des Pyrenees".  I can't imagine a deeper purple or a more intense cherry-y taste.  Don't get it on your t-shirt.
Parc Beaumont is a lovely park with flowers, lake and entertainments for kids such as a playground, bikes for hire and giant bubbles.  We spent ages here.  It also has the Palais Beaumont, which is a smart congress centre and concert venue. pau-congres.com.  I saw a 5-star hotel there called Hotel Parc Beaumont, and can only imagine the luxury.
Vert-Tiges – the high ropes!  Note the pun (green branches/vertigo).  My daughter had a really fun time there and she had to take all the instruction in French.  foretdesverts-tiges.fr. 
Stade d'Eaux Vives is a white water stadium, part of the fast-flowing Gave de Pau, where adults and/or kids can do canoeing, paddle-boarding etc.  They hold special courses in school holidays. We watched people progressing and/or getting stuck in the current and being shown how to free themselves.  www.paupyrenees-stadeeauxvives.com.
Caliceo – we had a really relaxing time at this lovely spa.  There are also four other swimming pools in Pau.  http://www.caliceo.com/pau
Le Musee des Beaux Arts displays European paintings from the 15th century to the present day.  They run workshops for kids in the school holidays.  http://www.pau.fr/209-musee-des-beaux-arts
Shops  Pau is a relaxed place to do some clothes shopping and buy some things you can't get back home.  Our suitcase was a lot heavier as a result.  You can walk around the town centre or take one of the frequent shuttle buses which are free of charge.  Many of the roads are traffic-free, so younger kids can have more space and safety.
We spotted this shop on the rue Joffre.  The name "Nounourserie" is a clever play on the words "nounours" (teddy bear) and the English "nursery".  The window display was spectacular but we didn't go in.  We would have come out with some furry friends for our journey home, that's for sure.  http://lanounourserie.com
Tourist office (Place Royale) activities for kids include a "detective" game called Randoland where the kids do puzzles and drawings while they explore the town.  "Rallye GPS" is also on offer.  Chocolate workshops were being advertised.  They have lots of information about the surrounding area too.  www.pau-pyrenees.com
Events include concerts, film, theatre, festivals.  The Grand Prix de Pau (modern and historic races) takes place every year in May.  www.grandprixdepau.fr
It would be interesting to read some more experiences of this area which offers so much for families!
.