We've just spent the May half-term week on Dartmoor, enjoying the sunshine while it poured with rain back home in London.  I think the month of May is the best time of year to go to Devon, because of the hedgerows full of wild flowers and the carpets of English bluebells.  Funny that as a toddler our daughter used to call this area "Darkmoor".  The native English bluebells you see here are more delicate and fragrant than the Spanish ones, and they have creamy-coloured pollen rather than the Spanish blue.  It's illegal to dig up the bulbs or sell them with the seeds.  Carpets of bluebells are said to indicate the one-time presence of ancient woodland.  Here's what we saw on our walk near Easdon Tor, Dartmoor.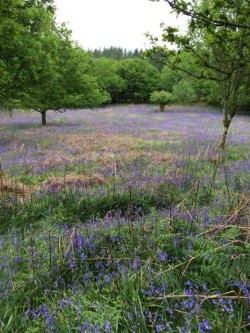 This is a very English sight – I haven't seen carpets of bluebells anywhere else in Europe.  The smell was amazing.
Our daughter found a good use for her German as she was helping our bed and breakfast hosts to set the table.  A visiting Austrian couple were puzzling over the cooked breakfast choices (they're used to having bread rolls for breakfast) and our daughter helped with a bit of translation and a lot of chat.  They were amazed to discover that my husband had been to their village in Austria and climbed the nearby Grossglockner mountain.  Not all European tourists can remember the English they learned at school, and these people were thrilled to be spoken to in their own language.  Our daughter was reminded that speaking another language gives you a link to people you wouldn't otherwise get a chance to talk to.  Languages open doors.