We don't need the excuse of Pancake Day to enjoy delicious pancakes at Love Crêpe in Cheam.  Any day of the year will do!  It's open weekdays 8 am to 5 pm, and Saturdays 9.30 am to 4.30 pm.  The address is 26 High Street (near to the crossroads in the centre of Cheam).
The name of the café is an eye-catching mixture of English and French.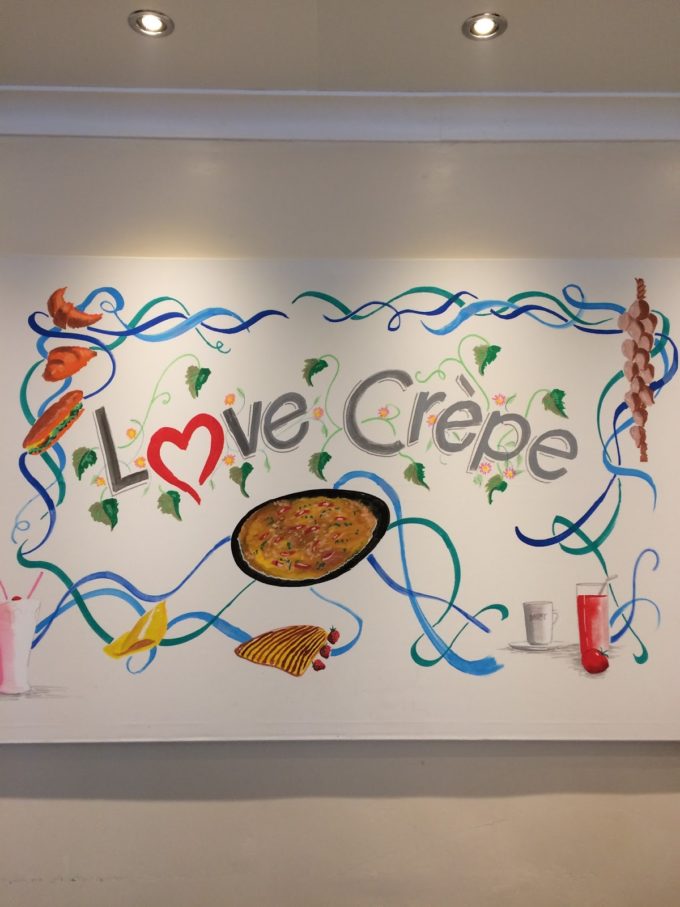 Quick aside, for those who like grammar/linguistics: in the French word "crêpe", the accent on the 'e' is circumflexe (like a hat), not grave.  The circumflexe accent often either distinguishes between 2 homophones, like sur (on) and sûr (sure), or it shows the original presence of an 's' way back in the history of the language.  In Latin-based words the 's' has gradually become silent over the course of linguistic change, then fallen away.  Latin "fenestra" (window) became French "fenêtre" and Latin "crispus" (curled) evolved to become "crêpe".  Interestingly, in Italian it's "crespelle".  From September, the circumflexe accent will disappear from the letters "i" and "u" in French school textbooks.  For the moment, both spellings will be acceptable but the short notice has caused quite a furore in France.
Because we don't have accents in English, we may think they don't matter, but in French they're part of the spelling.  When teaching I sometimes used to find that students knew there should be an accent of some sort above the letter, grave or acute or circumflexe, they just didn't know which one. So they would just draw a flat line and hope that Teacher would give them the benefit of the doubt.  That doesn't work!
Anyway, we were at the café yesterday to eat the pancakes rather than to cringe at the spelling.  We'd been in there before a few times for a snack after school, and found happy local school students tucking into their pancakes, especially on a Friday.  You can see the food being prepared and you can choose between soft armchairs by the window or upright chairs at the spotless white tables.
If you're not very hungry they don't mind you sharing a pancake, but my daughter and I couldn't agree on the presence or absence of Nutella, so we had separate ones. They were so big that we couldn't finish them!  This is what my daughter thought:
"The reason we go there is simple: we're pancake lovers.  My favourite consists of pancake, cream, strawberries, Nutella, strawberry sauce, and yet more Nutella.  My dream come true!   The eating method is simple: cut a slice of pancake, dip it in loads of cream, eat it, get a strawberry, dip that in even more cream, eat it, then repeat the whole cycle at least 25 times.  I like it there because it's clean, bright, the staff are very friendly, and there are lots of different options, sweet and savoury.  You can even have breakfast there."
Here's a photo of my pancake, taken in the few seconds between when it arrived and when I started eating it.