I'm drawn to b small publishing books by their bright, happy covers.  It looks like the content is going to be fun!  I'm going to look at several of their books for primary children.  They're good quality, strong paperbacks, and great value at £5.99.  I'm starting off with
My Family Tree Book
By Sam Hutchison and Catherine Bruzzone, in 2017
Illustrated by Franziska Hoellbacher
This shiny activity book has a simple, bold cover showing people of varied ages and ethnic origins.  The blurb on the back emphasizes that "all families are unique" and the aim is to celebrate all families.  Everyone can feel pride in their roots as they fill in the pages.  We're told that this is about our family, and so we don't have to fill in every single blank on every page.
There's a huge interest in genealogy among retired adults, but kids also like to hear family stories and have a sense of belonging and origin.  We all like to know where we're from.  It gives us a feeling of continuity and security.  It gives us stories about real people in our background who weren't even famous.  Family trees we see in history books can look really complicated, but this book guides us through the process of creating our very own.
This is an adult-child/children joint project.   First of all, we collect information about each family member who's going to take their position on the tree.  One page is devoted to each person and we can give details of appearance, hobbies, likes and dislikes, jobs and memories.  The authors have provided space for children who have two mothers, and if children are adopted they can write about their birth parents and adoptive parents.  If they don't have any uncles and aunties they can use that space for other special adults who spend time with their family.  Imaginary siblings are catered for in the absence of real ones. The blank spaces are just asking to be written on.  Kids will have fun doing a bit of detective work in the family, chatting to older family members and choosing photos and documents to stick in.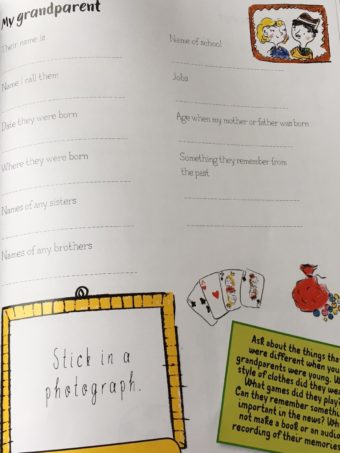 After that we're shown step by step how to build our own family tree, which can be any size.  If it's large we might want to use the "Family Wheel".  All sorts of families are catered for: those involving fostering, adoption, solo parenting and step families.  We're given guidance to help us draw out the tree.  The trees clarify the connections between people – who is related to who, and how?  The authors show us how to add more information if there isn't enough space.
At the end of the book there are more ideas for extending our detective work and finding out about family members via school reports, letters and diaries.  We can find out about the clothes our grandparents used to wear and the music they liked.  Grandparents might have stories about their own grandparents.  Sometimes hobbies and activities don't get talked about unless you ask.  I only discovered recently that my own Grandmother swam for Yorkshire and she was trained by an Olympic swimmer.
By the time we've finished this book we've learned and recorded a lot about our family, done some detective work and produced a unique book we've created for ourselves.  We can also relate our discoveries to history in general.  I love to show my daughter old family photos and share her amazement at the clothes people used to wear.
Ma Famille
By Catherine Bruzzone, in 1993
Illustrated by Caroline Jayne Church
This book is very similar to My Family Tree, with the added bonus of improving your French as you're reading it and completing the activities.  Phrases such as "date de naissance" might come in useful for future form-filling.
One difference with this book is that there's a large space at the end in which to draw your family tree without any guidelines on the page.  One tip from me: I've seen frustrated children trying to rub things out when they've pressed on very hard with their pencil.  I think it would be advisable to draw trees on a separate piece of paper first and then stick your favourite one into the book.
The visuals in this book are just as delightful, and the pages are not too "busy".  The illustrations stand out and the blank spaces are asking to be filled in by the young writer/artist/linguist.
Hide and Speak French
By Catherine Bruzzone and Susan Martineau
Illustrated by Louise Comfort
These books with the play-on-words titles are also available in English, Spanish, Italian and Chinese.
Again, the front cover with its happy pictures and bold colours tells us that this book is going to be fun to use.
On the inside front cover there's a "How to Use" section which is clear and easy to read.  By the time you've finished the book you'll have learned 140 French nouns, and lots of common verbs along the way. You'll get the satisfaction of seeing lists of the nouns you've learned on the last page of the book.
The format means that you don't just read the words, you learn them as well.  The writer takes the proven look-write/say-check system and adapts it so that you use the special flaps at the back of the book to cover the words and then see if you can recall them.  The flaps have a wipe-clean surface so you can use them lots of times.  The words are shown in sentences as well, so we can see how to use them.
The vocabulary is needed for children's everyday lives – family, school, animals, trips out –  so they can identify with the material.  You could reinforce the vocabulary you've learned by playing games like "Simon dit" or singing songs like "Têtes, épaules, genoux et pieds".
We're shown how to pronounce the words as accurately as possible using English sounds, eg. le cheval = ler shval.  Even so, it would be best to have a native speaker read the book with you to get the most authentic accent.
Just like the other b small books I've reviewed, the illustrations are delightful, clear and stand out on a white background.  The pages aren't too "busy".  Like the other b small books, they include disability and an ethnic mix.  I like the humour: we love to see Grandma struggling to eat spaghetti when grandmas are known to give plenty of advice about table manners!
The cute animal pictures will be a hit with children.   To expand on the animal names, look up the sounds which French animals make, eg. a duck says "coin coin" and a dog "ouah ouah".  You could refer to this multilingual animal noise chart here.  And you could look up the song "Le vieux McDonald a une ferme".  There are lots of versions on YouTube.  Have fun playing together!
B small publishing kindly sent me the above books to review.  As ever, these are my own honest opinions.  If you'd like to find out more about b small publishing please visit www.bsmall.co.uk.