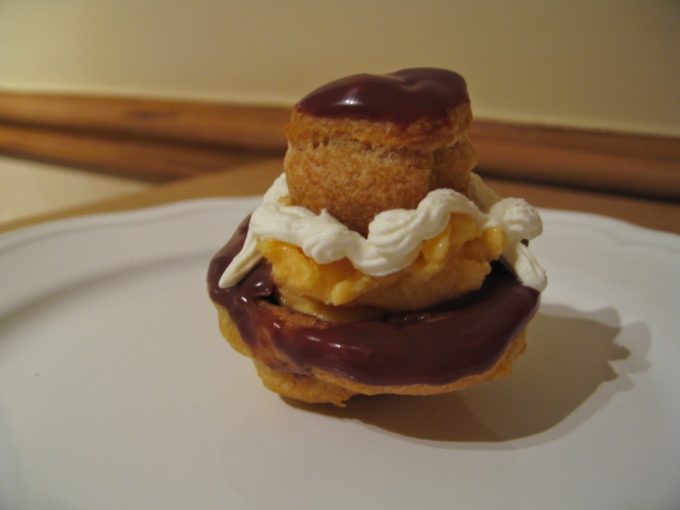 My introduction to French chocolate nuns
Pau is a lovely town at the foot of the Pyrenees in southwest France.  Years ago, as a student of French and German, I spent several months at the university there as part of my degree course.  There was a lot to explore in the area, and that included local food.
I first came across chocolate "réligieuses" in one of the many pâtisseries in Pau.  The name was puzzling at first, as "réligieuse" is the French word for nun. Why chocolate nuns? When you look closely at the pastries you realize that they do vaguely look like nuns.  They're made up of two choux buns, a small one on top of a larger one, filled with "crème pâtissière" and partly coated in chocolate ganache to represent the nun's habit.  Cream is piped around the join between the two buns to make a frilly "collar".  Apparently these edible nuns were first created around the middle of the 19th century, by a Parisian pastry cook called Frascati.  He spent days working on the perfect recipe for these addictive little cakes.  Once I'd tried one, it was even harder to walk past the mouth-watering pâtisserie displays. At home in the UK we had chocolate santas and chocolate Easter bunnies, but chocolate nuns? These were something new, and much more delicious.  One warning: they're rich!
Recreating our chocolate nun experience
I went to Pau recently with my 10 year-old daughter, to visit a friend from my student days.  When we came back to London felt inspired to re-create the chocolate choux pastry experience we'd shared with her.  My daughter describes the cake she ate in France: "I don't want to sound too much like Mary Berry, but when you bit into it, you could taste perfectly cooked pastry, chocolate gooey-ness and a little icing for extra chocolatey-ness on top.  Heaven."
We looked for recipes for réligieuses online, and found plenty of them, in French and in English.  Our recipe came from http://www.bbc.co.uk/food/recipes. Well, we had a lot of fun making our réligieuses.  The most fun challenges were piping out the pastry bun shapes without the mixture squirting out of the top of the piping bag, assembling the "nuns" at the end, and piping the frilly cream "collars".  All this is quite fiddly when you have a whole batch of nuns to decorate. Their appearance didn't quite reach the standards found in French pâtisseries.  Our nuns were a bit scruffy; more worthy of Jo Brand's "An Extra Slice" than Mary Berry's "Bake Off".  But the most important thing was, they tasted delicious!